About the Artist
Maureen O'Hara Pesta is a graduate of St. Mary's College at Notre Dame, Ind., where she studied with Norman Laliberte. Her career has encompassed both fine and commercial art, including graphic design and illustration for books and periodicals.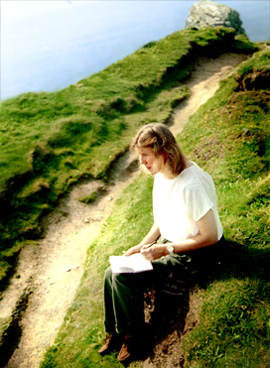 MAUREEN O'HARA PESTA

She has worked on commercial projects as varied as creating window designs for major department stores around the country, drawing newspaper cartoons and courtroom trial sketches, and painting the "Cool Bus" ~ an old school bus converted for promotional use by a radio station.
Her fine art has appeared in numerous solo and group shows, and she has received honors in major juried shows at the national, regional, and state levels. Her paintings have hung in museums and galleries throughout the United States, including the Butler Institute of American Art, Youngstown, Ohio, and the National Arts Club and Salmagundi Club in New York City. In 2002 she participated in an exhibit in Tokyo, Japan, memorializing the victims of Sept. 11, 2001.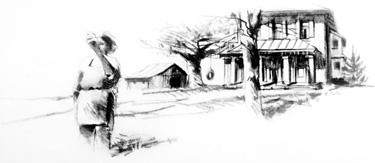 "GOODBYE"


Among her collectors are international corporations as well as regional institutions. Her work was featured in the November 1997 and June 1998 issues of American Artist Magazine.
She is a signature member of the Pastel Society of America; other memberships include Indiana Heritage Arts, the Indiana Artists Club, the Hoosier Salon, the Indiana Plein Air Painters Association, and the Southern Indiana Center for the Arts.
Working primarily in pastel, she creates studio and plein air work, utilizing a French easel for on-site studies and paintings. She has traveled in the U.S., Europe, and Asia with easel and supplies.
Her studio and gallery adjoin the Jackson-Washington State Forest in southern Indiana.
Workshops & Lessons
For information about individual instruction, please contact the artist directly. Contact information can be found at the bottom of this page.
News, Gallery Representation & Exhibits
Maureen O'Hara Pesta is represented by:
Castle Gallery
, 1202 West Wayne Street, Fort Wayne, Ind. 46802
Phone: (866) 726 3699
Online
CastleGallery.com
NEW! Signed and numbered limited-edition giclee print:
The print, "August Morning," (shown below) is available through
Castle Gallery
and at the Maureen O'Hara Pesta gallery in Vallonia, Ind., in a limited edition of 100 for $150. Image area 14.5x21 inches.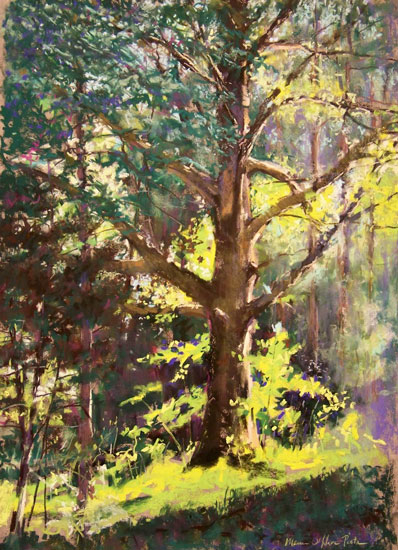 "AUGUST MORNING," AVAILABLE AS LIMITED-EDITION PRINT



NEW! A selection of signed, numbered and framed giclee prints:
The prints, matted and framed as shown below, are available at the Maureen O'Hara Pesta Gallery in Vallonia, Ind. Also available at the gallery is a selection of framed photography by
Jesse Pesta
. The prints and photographs are professionally framed in 12 x 12-inch golden wood frames. The pieces, affordably priced at $50 apiece, can be hung singly or together to create a wall arrangement in any size setting.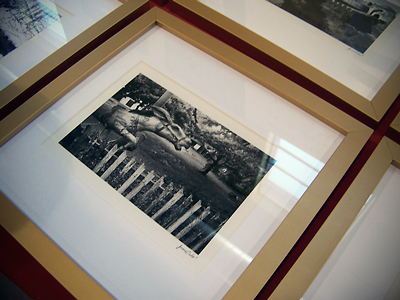 SELECTION OF PRINTS, FRAMED AND SIGNED



The artist's studio and gallery is open by appointment:
Maureen O'Hara Pesta Gallery
, Vallonia, Ind. 47281
To make an appointment, please use the contact information at the bottom of this page.
Annual Art Auctions ~ Southern Indiana Center for the Arts
The artist has created special pieces for the Artful Affair auction and poster sale, benefitting the Southern Indiana Center for the Arts in Seymour, Ind., every year since the event's inception in 1994. For further information call (812) 522-2278.
The original artwork for the 2011 limited-edition poster, "Meadow Path," by Maureen O'Hara Pesta, (pictured below) represents a scene near the artist's studio in Starved Holler, in Jackson County, Ind. The painting was sold at auction during the 2011 annual Artful Affair fundraising event.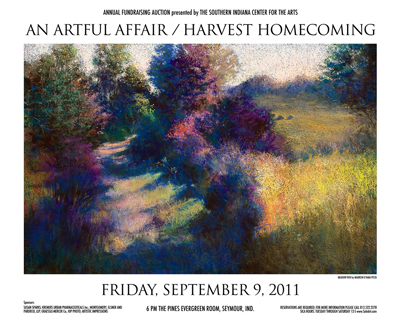 "MEADOW PATH"


For the 2012 SICA fundraiser, "Downtown Seymour Farmers' Market" (shown below) was the featured artwork.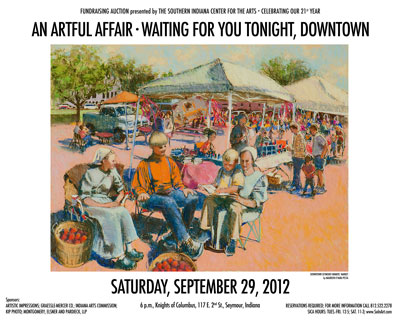 "DOWNTOWN SEYMOUR FARMERS' MARKET"


The artist stated, "On the day I sketched at the Downtown Seymour Farmers' Market I discovered fresh produce, homemade pies, honey, alpaca woolens, candles, and pottery, all locally produced. I met and talked to growers and artisans from around the county, such as this Mennonite family from Freetown. I found downtown Seymour to be upholding its long tradition, dating from the days of the historic Farmers Club, of establishing a gathering place for farmers and townspeople."
The original work was auctioned at the 2012 fundraising event for the benefit of the Southern Indiana Center for the Arts.
Contact the Artist
Contact Maureen O'Hara Pesta by emailing Maureen@MaureenPesta.com.
Links
JessePesta.com
~ black-and-white photography.
AbigailPesta.com
~ editor and writer in NYC.
JohnPesta.com
~ author of the murder mystery "Safely Buried."
ButterNoParsnips.com
~ short stories and fine art.
Copyright (
c
) Maureen O'Hara Pesta, all rights reserved.